Vente MMOGA été – Elles ne font  que commencer … 10% sur tous les jeux Steam!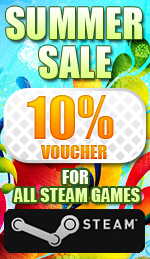 À partir de maintenant, nous vous accordons un rabais de 10% sur TOUS les jeux Steam dans la Boutique en ligne MMOGA  – jusqu'au Vendredi 4 juillet ! Tous nos Jeux steam sans exception, y compris les best-sellers comme Dark Souls 2 et Total War: Rome 2, et même le blockbuster à venir Call of Duty: Warfare Advanced ou la Terre du Milieu: Shadow of Mordor (Middle-Earth: Shadow of Mordor), et de nombreux jeux indie convoités comme DayZ ou The Forest !
Utilisez le code coupon de réduction ci-dessous pour obtenir votre rabais de 10% sur Steam Jeux 1x dans la boutique MMOGA jusqu'au vendredi 4 Juillet, 23h59 CET:
MMOGASummerSale2014
Ça va être un été chaud … avec les meilleurs jeux STEAM et l'offre MMOGA spécial été!
 Les prix affichés ci dessous ne tiennent pas compte de la remise supplémentaire de 10 %
Par exemple :
Products 1x Call of Duty Advanced Warfare € 49,99
Discount Coupons (MMOGASummerSale2014): – € 5,00
Total: € 44,99
Call of Duty Advanced Warfare


Delivery time: Nov 4th, 2014

€ 69,99

€ 49,99

Call of Duty Ghosts


Delivery time: 5-10 minutes

€ 59,99

€ 22,99

Call of Duty Ghosts – Season Pass


Delivery time: 5-10 minutes

€ 49,99

€ 41,99

Call of Duty Ghosts – Digital Hardened Edition


Delivery time: 5-10 minutes

€ 119,99

€ 99,99

Call of Duty Ghosts – Free Fall Edition


Delivery time: 5-10 minutes

€ 59,99

€ 28,99

Call of Duty Ghosts + Season Pass Bundle


Delivery time: 5-10 minutes

€ 109,99

€ 64,99

Borderlands 2 – Game of the Year Edition


Delivery time: 5-10 minutes

€ 59,99

€ 15,99

Dark Souls II


Delivery time: 5-10 minutes

€ 49,99

€ 25,99

DayZ (Standalone)


Delivery time: 5-10 minutes

€ 31,99

DayZ – Steam Gift Key


Delivery time: 5-10 minutes

€ 27,99

Dark Souls II – Black Armour Edition


Delivery time: 5-10 minutes

€ 52,99

€ 31,99

Total War Rome 2


Delivery time: 5-10 minutes

€ 49,99

€ 22,99

Total War Rome 2 – Greek States Culture Pack


Delivery time: 5-10 minutes

€ 9,99

€ 8,99

Total War Rome 2 – Nomadic Tribes Culture Pack


Delivery time: 5-10 minutes

€ 9,99

€ 6,99

Total War Rome 2 – Caesar in Gaul DLC


Delivery time: 5-10 minutes

€ 14,99

€ 9,99

Total War Rome 2 – Hannibal at the Gates DLC


Delivery time: 5-10 minutes

€ 14,99

€ 9,99

Total War Rome 2 – Pirates and Raiders DLC


Delivery time: 5-10 minutes

€ 7,49

Middle-Earth – Shadow of Mordor


Delivery time: Oct 7th, 2014

€ 49,99

€ 44,99

Mortal Kombat X


Delivery time: 2015

€ 49,99

€ 47,99

Call of Duty 6 – Modern Warfare 2 (Uncut)


Delivery time: 5-10 minutes

€ 24,99

€ 12,99

The Elder Scrolls V: Skyrim


Delivery time: 5-10 minutes

€ 39,99

€ 12,99

Call of Duty Black Ops 2


Delivery time: 5-10 minutes

€ 59,99

€ 19,99

The Elder Scrolls V: Skyrim – Dawnguard (Addon)


Delivery time: 5-10 minutes

€ 19,99

€ 17,99

Counter-Strike: Global Offensive – CSGO


Delivery time: 5-10 minutes

€ 14,99

€ 9,99

Company of Heroes 2


Delivery time: 5-10 minutes

€ 39,99

€ 12,99

Dead Island Riptide


Delivery time: 5-10 minutes

€ 44,99

€ 8,99

GRID 2


Delivery time: 5-10 minutes

€ 49,99

€ 9,99

Steam Game Card 20 USD


Delivery time: 5-10 minutes

€ 18,99

Steam Game Card 50 USD


Delivery time: 5-10 minutes

€ 41,99

Lost Planet 3


Delivery time: 5-10 minutes

€ 49,99

€ 9,99

Payday 2


Delivery time: 5-10 minutes

€ 29,99

€ 18,99

The Elder Scrolls V: Skyrim – Hearthfire (Addon)


Delivery time: 5-10 minutes

€ 4,99

Saints Row IV


Delivery time: 5-10 minutes

€ 39,99

€ 9,99

The Elder Scrolls V: Skyrim – Legendary Edition


Delivery time: 5-10 minutes

€ 39,99

€ 17,49

Arma 3


Delivery time: 5-10 minutes

€ 49,99

€ 28,99

DuckTales Remastered


Delivery time: 5-10 minutes

€ 13,99

€ 9,99

Saints Row IV – Commander in Chief Edition


Delivery time: 5-10 minutes

€ 49,99

€ 21,99

Saints Row IV – Season Pass


Delivery time: 5-10 minutes

€ 8,99

Arma 3 – Digital Deluxe Edition


Delivery time: 1-24 hours

€ 49,99

€ 34,99

X Rebirth


Delivery time: 5-10 minutes

€ 49,99

€ 18,99

Shadow Warrior


Delivery time: 5-10 minutes

€ 34,99

€ 11,99

Train Simulator 2014


Delivery time: 5-10 minutes

€ 41,99

€ 16,99

War of the Vikings


Delivery time: 5-10 minutes

€ 23,99

€ 12,99

Demonicon


Delivery time: 5-10 minutes

€ 35,99

€ 11,99

Injustice: Gods Among Us – Ultimate Edition


Delivery time: 5-10 minutes

€ 44,99

€ 10,99

Steam Game Card 5 GBP


Delivery time: 5-10 minutes

€ 6,99

Steam Game Card 10 GBP


Delivery time: 5-10 minutes

€ 12,99

Steam Game Card 15 GBP


Delivery time: 5-10 minutes

€ 19,99

Steam Game Card 20 GBP


Delivery time: 5-10 minutes

€ 25,99

Steam Game Card 25 GBP


Delivery time: 5-10 minutes

€ 31,99

Steam Game Card 50 GBP


Delivery time: 5-10 minutes

€ 63,99

Steam Game Card 30 GBP


Delivery time: 5-10 minutes

€ 37,99

Far Cry 3 – Steam Key


Delivery time: Currently not available

€ 19,99

€ 14,99

Alien Isolation


Delivery time: Oct 7th, 2014

€ 49,99

€ 42,99

Evolve


Delivery time: Oct 21st, 2014

€ 42,99

Dying Light


Delivery time: 2015

€ 42,99

€ 39,99

Banished – Steam Gift Key


Delivery time: 5-10 minutes

€ 18,99

€ 14,99

7 Days To Die – Steam Gift Key


Delivery time: 5-10 minutes

€ 22,99

€ 15,99

Dead State – Steam Gift Key


Delivery time: 5-10 minutes

€ 22,99

€ 14,99

Batman Arkham Knight


Delivery time: Feb 24th, 2015

€ 59,99

€ 44,99

Civilization – Beyond Earth


Delivery time: Autumn 2014

€ 42,99

€ 39,99

Borderlands – The Pre-Sequel


Delivery time: Oct 17th, 2014

€ 49,90

€ 42,99

GRID Autosport


Delivery time: 5-10 minutes

€ 42,99

€ 29,99

Tropico 5 – Steam Gift Key


Delivery time: 5-10 minutes

€ 44,99

€ 27,99

Dead Island Riptide – Complete Edition


Delivery time: 5-10 minutes

€ 19,99

€ 10,99

GRID Autosport – Black Edition


Delivery time: 5-10 minutes

€ 49,99

€ 31,99

Rise of the Tomb Raider


Delivery time: 2015

€ 49,99

€ 42,99

Far Cry 3 – Steam Gift Key


Delivery time: 5-10 minutes

€ 19,99

€ 10,99

GRID Autosport – Season Pass


Delivery time: 5-10 minutes

€ 27,99

€ 24,99

Dead Island Epidemic – Patient Zero Pack


Delivery time: 5-10 minutes

€ 14,99

€ 12,99

Dead Island Epidemic – DEADicated Pack


Delivery time: 5-10 minutes

€ 34,99

€ 28,99

Dead Island Epidemic – Contagion Pack


Delivery time: 5-10 minutes

€ 39,99

€ 31,99

Dead Island Epidemic – Badass Starter Pack


Delivery time: 5-10 minutes

€ 17,99

€ 15,99

Dead Island 2


Delivery time: 2015

€ 49,99

€ 39,99

GTA 5 – Grand Theft Auto V


Delivery time: Oct 28th, 2014

€ 49,99

Football Manager 2014


Delivery time: 5-10 minutes

€ 49,99

€ 12,99

Wolfenstein The New Order


Delivery time: 5-10 minutes

€ 59,99

€ 29,99

Thief


Delivery time: 5-10 minutes

€ 49,99

€ 12,99

F1 2013


Delivery time: 5-10 minutes

€ 49,99

€ 9,99

The Elder Scrolls Anthology


Delivery time: 5-10 minutes

€ 59,99

€ 28,99

The Witcher 3 – Wild Hunt


Delivery time: Feb 24th, 2015

€ 59,99

€ 42,99

NBA 2K14


Delivery time: 5-10 minutes

€ 29,99

€ 9,99

Goodbye Deponia


Delivery time: 5-10 minutes

€ 19,79

€ 16,99

Pro Evolution Soccer 2014 – PES 2014 Key


Delivery time: 5-10 minutes

€ 39,99

€ 18,99

WRC 4 – FIA World Rally Championship


Delivery time: 5-10 minutes

€ 39,95

€ 12,99

Mark of the Ninja


Delivery time: 5-10 minutes

€ 14,99

€ 5,99

Dishonored – Game of the Year Edition


Delivery time: 5-10 minutes

€ 39,99

€ 14,99

LEGO Marvel Super Heroes


Delivery time: 5-10 minutes

€ 29,99

€ 13,99

Thief – Master Thief Edition


Delivery time: 5-10 minutes

€ 52,99

€ 32,99

Castlevania – Lords of Shadow 2


Delivery time: 5-10 minutes

€ 42,99

€ 22,99

South Park – The Stick of Truth (Steam Key)


Delivery time: 5-10 minutes

€ 39,99

€ 31,99

Age of Wonders 3


Delivery time: 5-10 minutes

€ 39,99

€ 18,99

Enslaved (Odyssey to the West) – Premium Edition


Delivery time: 5-10 minutes

€ 19,99

€ 12,99

Rust


Delivery time: 5-10 minutes

€ 23,99

Rust – Steam Gift Key


Delivery time: 5-10 minutes

€ 18,99

€ 15,99

Thief – Limited Day One Edition


Delivery time: 5-10 minutes

€ 49,99

€ 13,99

Insurgency – Steam Gift Key


Delivery time: 5-10 minutes

€ 13,99

€ 11,99

The Wolf Among Us – Steam Gift Key


Delivery time: 5-10 minutes

€ 22,99

€ 14,99

Thief – Bank Heist DLC


Delivery time: 5-10 minutes

€ 4,99

€ 1,49

Half-Life 2 Episode Pack


Delivery time: 5-10 minutes

€ 9,99

€ 7,99