Incroyable mais vrai après des mois et des mois d'attentes, le voici enfin !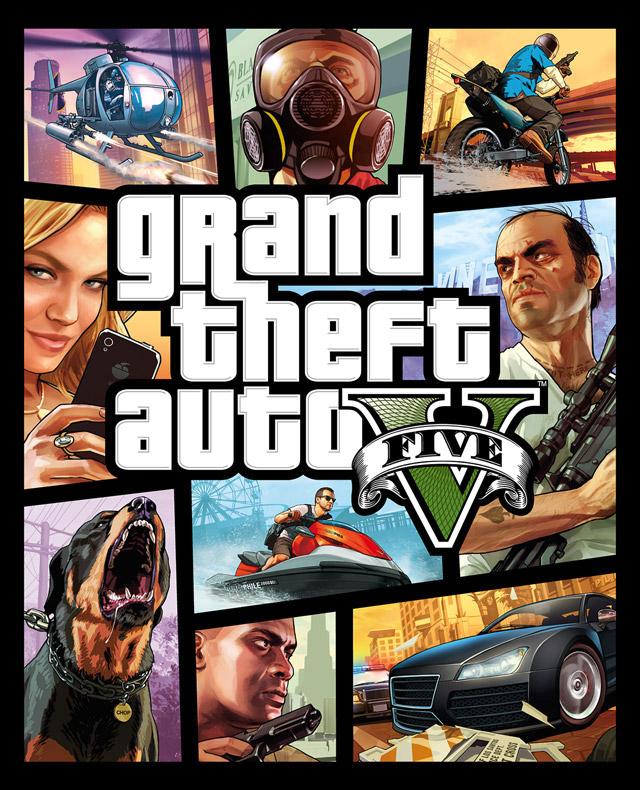 Grand Theft Auto V Is Now Available for PC : Et ce n'est pas un poisson d'avril !
Grand Theft Auto V is now available for PC at retail stores and via digital download.
Grand Theft Auto V for PC offers players the option to explore the massive world of Los Santos and Blaine County in resolutions of up to 4k and beyond, as well as the chance to experience the game running at 60 frames per second.
GTAV for PC offers players a huge range of PC-specific customization options, including over 25 separate configurable settings for texture quality, shaders, tessellation, anti-aliasing and more, as well as extensive support and customization for mouse and keyboard controls. Additional options include a population density slider to control car and pedestrian traffic, as well as dual and triple monitor support, 3D compatibility, and plug-and-play controller support.
Grand Theft Auto V for PC also includes Grand Theft Auto Online, with support for 30 players and two spectators. Grand Theft Auto Online for PC includes all existing gameplay upgrades and Rockstar-created content released since the launch of Grand Theft Auto Online, including the recently released Heists and Adversary Modes available on day one.
Grand Theft Auto V for PC also brings the debut of the Rockstar Editor, a powerful suite of creative tools to quickly and easily capture, edit and share game footage from within Grand Theft Auto V and Grand Theft Auto Online. The Rockstar Editor's Director Mode allows players the ability to stage their own scenes using prominent story characters, pedestrians, and even animals to bring their vision to life. Along with advanced camera manipulation and editing effects including fast and slow motion, and an array of camera filters, players can add their own music using songs from GTAV radio stations, or dynamically control the intensity of the game's score. Completed videos can be uploaded directly from the Rockstar Editor to YouTube or the Rockstar Games Social Club for easy sharing.
Soundtrack artists The Alchemist and Oh No return as hosts of the new radio station, The Lab FM. The station features new and exclusive music from the production duo based on and inspired by the game's original soundtrack. Collaborating guest artists include Earl Sweatshirt, Freddie Gibbs, Little Dragon, Killer Mike, Sam Herring from Future Islands, and more. Players can also discover Los Santos and Blaine County while enjoying their own music through Self Radio, a new radio station that will host player-created custom soundtracks.
Existing players can transfer their Grand Theft Auto Online characters and progression to the PC from any current platform.
For more information about Grand Theft Auto V and Grand Theft Auto Online for the PC, including minimum and recommended system specifications, please visit www.rockstargames.com/V/pc.
For any technical issues with GTAV whatsoever, please head to https://support.rockstargames.com. As with all major online game experience launches on new platforms, please bear with any temporary stability or other technical teething issues that may occur during the initial release period. For a list of known issues related to GTAV PC and GTA Online, please consult the Grand Theft Auto V Support website knowledgebase where you can subscribe to articles for automatic updates.
A peine sortie et déjà des problèmes comme c'est surprenant, au cas ou vous auriez des soucis. Voici comment vous en sortir !
Ainsi, lors de l'installation ou du lancement du jeu un message d'erreur apparaît : « le service de mise à jour de Rockstar n'est pas disponible (code 1) » Et bien commencez à sortir vos mouchoirs, mais non je déconne en fait c'est vous le problème ! Cette bonne blague hein !
Ce problème affecte uniquement les PC dont le nom d'utilisateur intègre certain caractères. Un changement de nom permettra à l'utilisateur d'éviter ce soucis. Vous trouverez sur le site de l'éditeur un article complet ainsi que la liste des caractères autorisés, afin d'éviter ses désagréments (cliquez ici).
Bon jeu à tous, et souvenez-vous :
Développé par Rockstar North, les studios à l'origine de la série, Grand Theft Auto V est disponible dans le monde entier sur PlayStation®3, PlayStation®4, Xbox 360® et Xbox One®. Dispo le 14 avril sur PC.
Los Santos : une métropole tentaculaire avec ses gourous, ses starlettes et ses gloires du passé fanées qui faisaient jadis rêver le monde entier et qui, aujourd'hui, luttent pour ne pas sombrer dans l'oubli alors que le pays est rongé par la crise et la télé-réalité bas de gamme
Au milieu de ce chaos ensoleillé, trois criminels très différents jouent gros pour leur avenir : Franklin, un jeune arnaqueur qui veut passer à la vitesse supérieure ; Michael, le professionnel, un ex-détenu dont la retraite est beaucoup moins tranquille que prévue ; et enfin Trevor, le psychopathe du groupe, camé et mégalo. Le dos au mur, les trois hommes risquent le tout pour le tout dans une série de braquages aussi spectaculaires que dangereux.
Avec le monde ouvert le plus vivant, le plus dynamique et le plus vaste à ce jour, Grand Theft Auto V mélange narration et gameplay de façon totalement inédite en vous permettant de prendre le contrôle des trois personnages principaux, quand vous le souhaitez, pour ne manquer aucun détail de leur histoire.
Tout ce qui a fait le succès de la série des Grand Theft Auto est de retour, comme l'incroyable attention aux détails et l'analyse à la fois drôle et cynique de la culture moderne, sans oublier une nouveauté des plus ambitieuses avec un multijoueur en monde ouvert.
lol