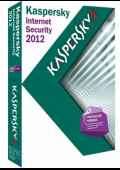 Kaspersky Internet Security
La garantie d'une protection optimale pour votre PC et votre famille !
Protège contre tous les nouveaux types de menaces
Sécurise les achats en ligne et opérations bancaires
Préserve votre identité numérique et votre vie privée
Bloque le spam, les sites Web dangereux et de phishing
Veille à la sécurité de vos enfants sur Internet
Empêche la publication de liens suspects sur vos comptes dans les réseaux sociaux.
Kaspersky Internet Security 2013 comprend :
Anti-virus
Anti-espions
Anti-phishing (amélioré )
Anti-spam ( amélioré )
Anti-rootkit
Anti-bannière
Transactions sécurisées ( nouveau )
Prévention automatique des failles de sécurité ( nouveau )
Pare-feu avancé
Contrôle parental ( amélioré )
Surveillance du système & restauration
Contrôle des applications
Analyse des liens ( améliorés )
Vérification instantanée de la sécurité
Clavier virtuel ( amélioré )
Clavier sécurisé ( nouveau )
Mises à jour gratuites des signatures
Support technique gratuit
Descriptions du produit
Version de mise à jour 1 poste / 1 An - Offre une protection complète contre les virus, les chevaux de Troie, le courrier indésirable, les pirates et bien d'autres menaces. Adopte une démarche hybride unissant les technologies du cloud computing et la protection antivirus installée sur votre PC.
Product description
Kaspersky Internet Security 2013 is a comprehensive computer security suite that provides users with unique, hybrid protection from all types of computer threats – allowing everyone, everywhere to use the Internet to its full potential.
Enjoy secure online banking and shopping
Kaspersky Internet Security 2013 warns you about potential phishing attacks and malicious websites and secures your credit card information and transaction details. Enjoy complete peace of mind when you shop and bank online!
Get effective protection from unknown threats
Block unknown malware threats before they can harm your PC with the help of automatic monitoring and analysis of program and system activities for malware behaviour patterns and information from the cloud - online databases located on Kaspersky Lab servers that contain information about the latest threats.
Communicate in safety on your favourite social networks
Our security software constantly monitors Internet traffic and protects you from accidentally launching malware or following links to phishing websites when you are using Facebook, Twitter and other social networks. Plus, your account details, pictures and other personal information stay safe.
Get immediate protection from emerging threats
Keep your computer protected against the latest malware threats with the help of cloud-based technologies that leverage information from KSN - Kaspersky Lab's globally-distributed threat monitoring network which gathers information regarding new threats from millions of users' computers around the globe.
Roll back malware changes
Safely undo changes that malware makes to your computer, ensuring no harm comes to your PC.
Benefit from hybrid protection
Whenever and wherever you use your PC and the Internet, take advantage of hybrid protection that brings together the latest information about threats from the cloud with the security capabilities in the product installed on your computer for unbeatable protection.
Protect your identity from phishing attacks
Prevent cybercriminals from stealing your digital identity thanks to anti-phishing protection technologies inside Kaspersky Internet Security 2013 which leverage lists of known phishing websites, proactive anti-phishing technologies and the latest information from the cloud.
Supervise your children's computer use
You manage when and how often your children access the PC and Internet and which games, websites and applications they use. Plus, you choose who your children communicate with via Instant Messaging and social networks and what their messages contain using predefined rules.
Features
Enjoy secure online banking and shopping
Get effective protection from unknown threats
Communicate in safety on your favorite social networks
Get immediate protection from emerging threats
Roll back malware changes
Benefit from hybrid protection
Protect your identity from phishing attacks
Supervise your children's computer use
System requirements
Processor 800 MHz, 512 MB RAM in Windows XP with Service Pack 2
Processor 1 GHz, 1 GB RAM (32bit) / 2GB RAM (64bit) in Windows Vista and Windows 7
480 MB free hard disk space (depending on the size of antivirus databases)
Internet connection for product activation
Microsoft Internet Explorer 6.0 or later
Microsoft Windows Installer Version 2.0 or later
Netbooks
CPU: Intel Atom 1,6 GHz
RAM: 1GB DDR2
Hard disk: 160 GB
Video card: Intel GMA950
Screen: 10.1 inch
Resolution: 1024x600 (Widescreen)
OS: Microsoft Windows XP Home Edition or better